Harry Potter, 19 years after the end of the Battle of Hogwarts, is an overworked employee of the Ministry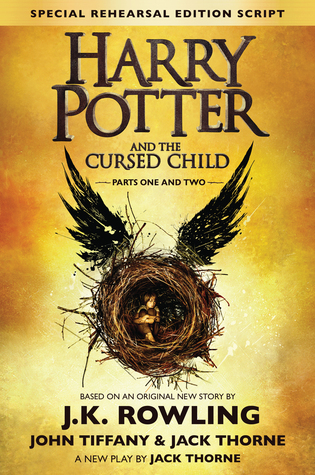 of Magic and father to James, Albus, and Lily. When Albus goes off to Hogwarts, however, and befriends the son of Draco Malfoy, the rift between father and son grows too wide with devastating consequences.

I think the most surprising thing about Harry Potter and the Cursed Child was how quickly I finished it. Obviously, a play is only dialogue and a few stage directions, taking up far less space on a page than a novel would, but it still surprised me that I read the book in only a little over two hours. For that reason, I'm quite pleased I resisted buying the book.

I'm so mixed about what to rate this. It just wasn't quite enough for me. Obviously, like I said, it's a play, and perhaps seeing it live would make it enjoy it more than I did. I don't want to spoil the major plot points, so it's hard to say more. Some have said that it reads more like an average-written fan fiction, and I would heartily agree with that assessment. I'm not even sure if I accept the story as canon.