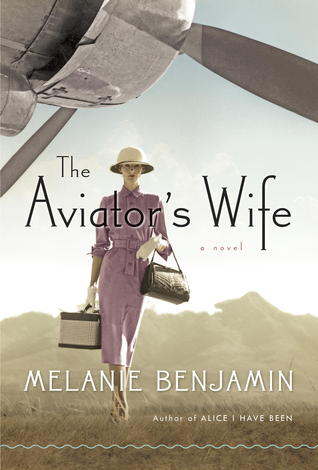 I read The Aviator's Wife for my monthly book club, and I probably would not have picked it up otherwise. That said, I learned a lot from this book. I already knew that I didn't like Charles Lindbergh, but this book sealed the deal for me. The author chose to examine the Lindbergh's marriage through the eyes of Charles' wife, Anne, and I was happy to learn what an amazing woman she was in her own right, even if she was somewhat shadowed by her husband, Lucky Lindy. The book begins with Anne Morrow meeting Lindbergh in Mexico City at Christmas in 1927 and goes forward to just before Lindbergh's death in 1974. It focuses on different important events in their marriage including the kidnapping of their firstborn and Lindbergh's anti-Semitic, America First views leading up to the start of WWII.
At times I was upset that Anne did not stand up more for herself, but considering the times that they lived in, I can understand. Furthermore, it was not in her nature to make waves. She was the intelligent daughter of an ambassador who assumed that her older, more attractive sister would marry well and be in the limelight more, and yet Charles chose Anne to be his "crew" in life. Charles is portrayed as rigid, unfeeling, and it seems his only positive attribute was his desire to protect Anne and their children. Part of me wants to believe that he had very little in terms of positive qualities, and part of me feels that perhaps the book went a bit to far in its negative view of Charles. However, reading some non-fiction items about the Lindberghs on the internet makes me think that perhaps the author was 100% correct in her assessment of Charles.
I definitely recommend this book, especially for a book club. We will be discussing it as a group on the 20th.