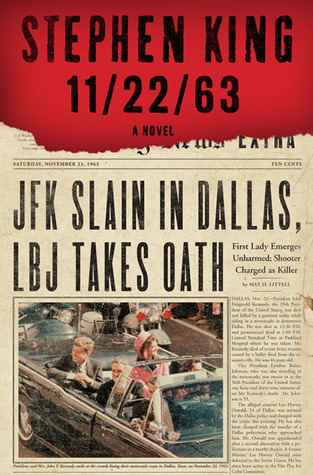 This book has been recommended to me SO many times over the last couple of years, but for some reason, I have only now finally read it. I don't WHY it took me so long! I love alternative history. I love time travel. I just knew it was a really big book. Even then, I'm unsure why that would daunt me. I used to love reading long books.
Anyways, it was a great book. I have very little, if anything, I can say negative about it other than the length. I feel it could have probably thinned down a bit, cutting out a bit of the repetition, but the book intrigued me and put me on the edge of my seat regardless.
Jake Epping is a recently divorced high school English teacher in Maine. When a friend, the owner of a local diner, calls Jake to come over to the diner, Jake learns of sort of "rabbit hole" through which one can travel back to a certain date and time in 1958. However, Jake is given a task that will change his life, and perhaps the lives of everyone else in the world - stay in the past and find a way to stop the assassination of John F. Kennedy on November 22, 1963.